---
WEG Motors with Bearing Protection Kits™
Helwig Carbon Bearing Protection Kits (BPKs) are now available on WEG motors. We've partnered with one of the world's most respected motor brands to offer shaft grounding pre-installed on new motors!

Helwig Carbon Products and WEG Engineers worked diligently together to develop an economical, long-lasting, and highly effective solution to protect a motor's bearings from induced shaft currents. Helwig Carbon's proprietary silver graphite brush will provide the least resistant path to ground for shaft currents, so they never pass through the bearings. The kit is also equipped with a constant force spring to ensure consistent contact with the motor shaft throughout the life of the motor. The spring and brush are contained in a sealed brass holder and can handle a variety of harsh, contaminated environments.

Order the industry's best shaft grounding solution pre-installed on any of the following WEG frame sizes: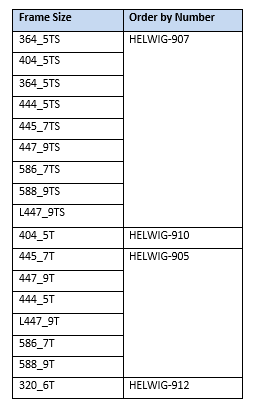 Also included in the pre-installed kit, is a custom-engineered mounting bracket that fits existing WEG motor bolt holes. The mounting bracket provides the BPK with mounting durability and more importantly, a path of least resistance to direct induced shaft currents away from the motor bearings to ground.
Helwig Carbon Bearing Protection kits fitted for WEG motors are available by ordering through a WEG distributor.
Find your distributor here: https://www.weg.net/institutional/US/en/contact/where-to-buy
Kevin Koenitzer
Business Development Coordinator
Helwig Carbon Products, Inc. is the premier, family-owned, American manufacturer, of carbon brushes, brush holders, spring assemblies, bearing protection kits metal graphite brushes, and mechanical carbons. Since 1928, we have forged innovations that have since become industry standards and requirements. We pride our self on manufacturing all of our products to the highest standard and performance because we know your application depends on it!